Hand Blown & Beach Glass Chandeliers
Dramatic lighting is the quickest way to turn any ordinary room into a magical living space.  Island Style offers two stunning concepts in lighting design.
Our hand blown glass chandeliers are the ultimate design statement. They come in two styles, Contemporary which is available in three sizes (47, 60 or 90 pieces) that can be tailored to fit any room.  For a more whimsical look we offer Confetti, a masterful work of art designed to add drama to any high ceiling interior space.
Each piece of glass is individually hand blown and may be combined to create limitless options of shapes and colors.  You may choose from the selections we have displayed in either of our galleries or have a chandelier customized to your wishes. (scroll down to the bottom of the page for size and color options)
Folklore holds that a piece of beach glass was a tear shed by a mermaid for a lost sailor.  Bring the dreamy natural look of the sea indoors with our beautifully handmade beach glass chandeliers.
These unique works of art are available in custom sizes and colors and can be embellished with coral and sea shells.
Island Style is available to assist you in designing the perfect lighting for the home of your dreams.  Contact us today to discuss the spectacular options available to you.
Please E-mail or call us today at 305-292-7800 for more information.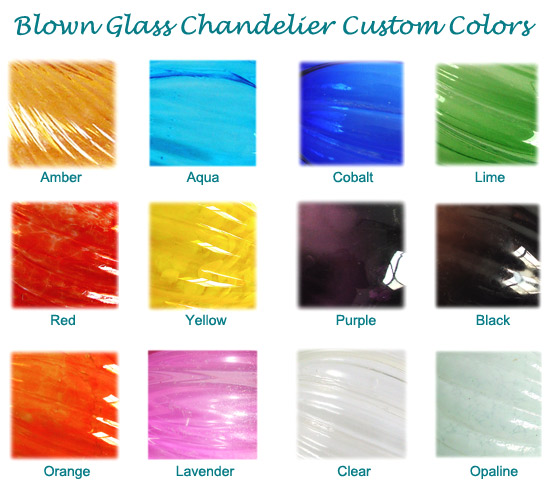 Blown Glass Chandeliers Measurements/Wattage Chart
Contemporary:
90 Pieces 38"H x 42"W x 42"D 225 watts
60 Pieces 30"H x 36"W x 36"D 150 watts
47 Pieces 16"H x 24"W x 24"D 75 watts
Confetti:
75 Pieces 48"H x 44"W x 44"D 150 watts
Note: All dimensions are approximate as all chandeliers are hand blown.