Press
Island Style Gallery feature in the Key West Citizen, April 2012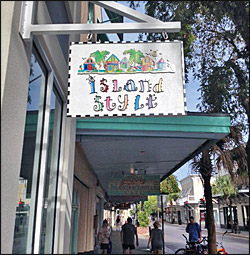 Island Style is a gallery, a way of life, for Florida artist
By EMILIE ALFINO
ealfino@breezenewspapers.com
It's an attitude. Casual, laid-back, fun. Barefoot. Warm and friendly.
"Island style" is almost a cliche these days, but Dyan Stuglin from Michigan came to Sanibel more than 26 years ago with island style in her soul and now owns two galleries by that name. The original is in Periwinkle Place on Sanibel, and her latest is on Duval Street in Key West. A third gallery on Captiva closed five years ago to allow her to expand at the Sanibel location.
Everything in Island Style gallery has a touch of the tropics in it. Home furnishings, pottery, glass, jewelry, and some clothing—all of it one-of-a-kind —all are organized around one idea: island style. "We use primarily Florida artists," Stuglin explained. "Most of these artists know each other, they know each other's work. So styles overlap and complement each other."
Stuglin's sister, Nanci Hankins, runs the Sanibel gallery while Suglin spends most of her time in Key West. Hankins said a lot of people who are just moving to Sanibel and Fort Myers come to the shop at Periwinkle when they're decorating their new homes. "We've been here a long time, 26 years, and they've heard about us. We have a good mix of customers, between tourists and locals," Hankins explained.
Hankins said her sister is an artist but isn't good at marketing and selling, so they make a good team.
Stuglin first came to Southwest Florida as a child on vacation with her parents. She said the island life was in her even then. "I could be a beach bum if I didn't have to work seven days a week." She said as she got older, whenever anything was going on in Florida, she had to be here. "I saved all my money to come for spring break. I had friends like that, too."
Then she discovered Sanibel Island. "I said, 'I have to live here.'"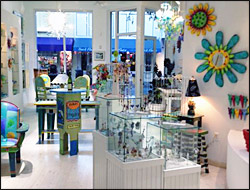 "Dyan spent some time at the Sundial when nobody lived here and absolutely loved it here," her sister said. "She was determined to live here and to have a business here."
"At that time, I was teaching elementary education," Stuglin said. "I knew I could not afford to live on Sanibel. But previously I had been a buyer for a boutique." With a minor in art, she decided to open a business.
About three years later, Hankins explained, Stuglin opened her first Island Style gallery in Periwinkle Place, and soon bought property on the island, where she still has a home.
The gallery is known for its colorful, original American crafts, including dramatic and distinctive furniture and pottery, all hand crafted. Stuglin designed the steps leading to the galleries second floor. Painted with island scenes in bright blues, greens, and corals, phrases wander across them: on one step, "Respect nature, leave no wake, let your heart sail away"; on another, "Sink into contentment, get some lull, watch an amazing sunset"; and "It's okay to be salty and fishy, shower outside, drink lots of fresh lemonade;" and Stuglin's favorite, "If you're lucky enough to be on an island, you're lucky enough."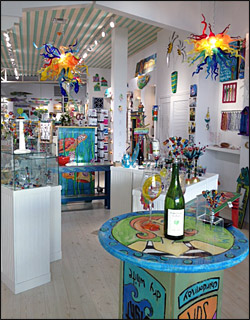 Respect for nature is something Stuglin particularly loves about Sanibel. "I love what the people have done to preserve the island and that particular lifestyle," she said. "And I love that there is a certain level of income people have to own property there but you would never know it. It's very unpretentious."
In fact, Stuglin finds differences in "island style" among the islands she knows: Captiva, where she had a gallery; Key West, where she has a home and a gallery; and Nevis, where she just designed and built another home.
"Captiva feels more remote than Sanibel," Stuglin said. "It's a gorgeous island, the smallness. It's less populated. Sometimes I miss my store there." Her Captiva gallery had the first capuccino bar on Sanibel and Captiva. "I saw one in a gallery in California and came back to Captiva and opened it."
What Stuglin said she loves about Key West that Sanibel does not have is the great diversity of lifestyles. "Not that Sanibel couldn't have it," she said. "Key West is the most tolerant place I've ever known. It's so wonderful that it doesn't matter if you're rich or poor or gay or the president of the United States—none of that matters. Everyone is just tolerant of everything. It's fun, it's crazy, and it's very young compared to Sanibel."
Her sister said the two used to go to Key West all the time for vacations. When Stuglin decided to open a gallery there about five years ago, Hankins was afraid the "good times" would be over and it would be "work, work, work." When Stuglin finally found a suitable gallery, she redesigned the whole inside, and her sister often goes down to help out. Are the good times over? "No, they're not," Hankins said. "We're still having fun. I feel pretty lucky."
Stuglin describes Nevis as "a flower about to bloom." She compares its island style to what Sanibel and Captiva must have been like before the causeway existed. "The water is so beautiful, people are very friendly, they love Americans – and so many places in the world, people do not anymore," Stuglin explained. "And even though the people are poor, they wish the best for you. Nevis is British, so there isn't the poverty. It's a little more proper, too. They have afternoon tea. You would never walk around in a bathing suit."
Stuglin said people ask her why she built a home in Nevis when she already had homes in Sanibel and Key West. But to her, attuned as she is to "island style," Nevis is as different from Sanibel and Key West as it is to Michigan.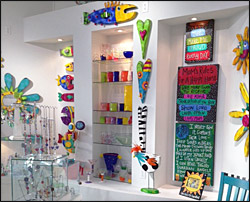 While Stuglin said she doesn't have time for her art anymore, she does a lot of designing. "Her houses are beautiful," Hankins boasted. "It's taken her four years to build it. ('It's the Caribbean; they work when they want to,' she added.) When she does it, she does it all. She designs the walls, the furniture, everything. She paints."
Stuglin said she's not working on two additional acres in Nevis, thinking of doing a little developing. "I should have been an architect, because I love designing houses. I hope if I design enough houses, I'll quit buying them for myself. Every time I design a house, I have to keep it," she moaned. "You get to the point where, what are you doing with all of these houses? My husband says to me, why don't you collect paperweights like normal people?"
She plans to sit down with an architect soon a design nine beach villas on her Nevis property, sell eight and keep one, then move on to another island to build herself another house to keep. "Then I promised my husband I would not collect any more houses."
With all these island houses, where does Stuglin call home?
"I feel at home no matter what home I'm in, probably because I've put everything I have into that home, wherever it is," she explained. "They all look very different, but very Caribbean." Stuglin said she used the works of different artiests in every home, so you get a different feeling when you walk into each house.
Does she miss one when she's in another? "I miss Nevis a lot but probably because it's new and it's still not quite finished," she said. Stuglin obviously feels at home in her two galleries. She spends most of her time there and said if the right opportunity came along, she would open another one."
Twenty-six years ago, Stuglin drove across the Sanibel causeway and decided to open a business there. And she made it happen. Surely, others have made the same decision and couldn't make it happen. What's the secret?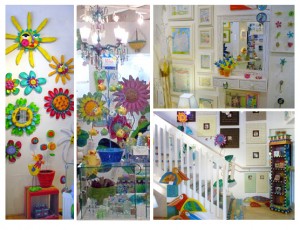 "I think you have to really believe it to make it happen," Stuglin said. "You have to have a goal and go after it and know that nothing's going to stop you. Of course, when I started it was less competitive. When I opened up in Key West, it was less competitive. Once you are established, it's easier as well. I think I would be afraid to open up a store on Sanibel today. I've been there 26 years. I wouldn't want to compete against me."
Today Stuglin still does some interior designing if asked. She designs a lot of furniture, doing the drawings for the artists, but she doesn't have the time to actually make the furniture. And of course, she's busy with her Sanibel and Key West galleries, and designing and building homes in Nevis and, she hopes, on another favorite island someday soon.
"I love what I do, so it's not work," she said. "Even though I could have the day off today, I'm here in the gallery. I believe that is so rare today, that people can actually love what they spend time doing and make a living at it. So I feel like I'm really blessed."
Island Style
Island Style gallery in Periwinkle Place, 2075 Periwinkle Way, Sanibel, is a treasure trove of tropical treats for your home, your office, or your self. The first highlight of the store, the colorful tropical-themed stairs to the second floor, immediately catch your eye and set the laid-back, nature-loving, island tone with their colors and peaceful sayings.
Hand-painted furniture by a group of artists known as Sticks all are one-of-a-kind, in muted, darker island colors. The scenes are playful, whimsical and for the young-at-heart. Sticks painted the steps designed by owner Dyan Stuglin, designed the grandfather clock and the headboard.
Crazy, funky fish sculptures, including Carmen Miranda, were done by Janet Verdegen. Key West artists known as Purple Baby Daddies are responsible for the popular flamingoes and flowers adorning the stairs, above and below.
The lighter-colored painted furniture, leaning more toward pastels, and done by Stan and Connie Brown (he makes it, she paints it).
A nice compliment to some of the Browns' furniture might be a Jim Hertz painting of a house – in a house-shaped frame, a tropical scene in tropical colors in a tropical shape.
There is a desk and coffee table, both limited editions, by Avner Zabari, along with a cabinet that, to some, is reminiscent of an old-time victrola shape.
Gallery Manager Nanci Hankins, who runs the gallery along with Rose Yannie, said the sassy cards by Clayboys draw many customers upstairs, where colorful tiles by Valerie and handmade jewelry are on display. A flower clock by Chris Due hangs on one wall, a head by Sticks on another.
The shop's biggest sellers adorn both floors – pottery by Floridian Susan Painter. Painter has two lines, one in earth tones and another in tropical colors. Hankins is quick to note they are useful, not merely decorative. "A lot of people collect the pottery," she explained. "All of our pieces, you can use, none of  them are solely decorative. They're microwave-, dishwasher-, and oven-safe."
Hankins often greets customers, many of whom are Captivans, from her desk in front of a mirror by Purple Baby Daddies, a perpetual calendar by Sticks, and popular horoscope tiles by Clayboys. The tiles display either positive or negative traits of each sign of the horoscope on separate, colorful plaques.
"Most people buy the negative ones. I don't know why," Hankins said. "Maybe it fits them more it's just more funny."
"Funny" is an apropos sentiment for this stylish, island-ish gallery. It's funny, it's fun, it will make you smile. It's everything an island should be.