Island Style Design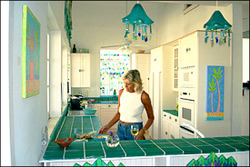 Island Style is not just a collection of objects; it is a way of life.  A manner of relaxed living that blends the beauty of nature with inspired artistry to create enchanting residential spaces. Homes where joyous laughter and brilliant sunlight are as much a part of the décor as exquisite furniture and art.
Color, craftsmanship and casual elegance are the key qualities of Island Style design. Each room is filled with the spirit of the artists who create our unique handmade furniture and decorative objects.  Island Style can assist you in designing new residential spaces or redecorating your existing one.  Let us bring the joy and beauty of our world to yours.
Please E-mail or call us today at 305-292-7800 for more information.