Dramatic Lamps and Lighting
Hand Blown & Beach Glass Chandeliers
Dramatic lighting is the quickest way to turn any ordinary room into a magical living space.  Island Style offers stunning concepts in lighting design. Our hand blown glass chandeliers are the ultimate design statement and come in various sizes to fit any space. Each piece of glass is individually hand blown and may be combined to create limitless options of shapes and colors.  You may choose from the selections we have displayed in either of our galleries or have a chandelier customized to your wishes.
Folklore holds that a piece of beach glass was a tear shed by a mermaid for a lost sailor.  Bring the dreamy natural look of the sea indoors with our beautifully handmade beach glass chandeliers. These unique works of art are available in custom sizes and colors and can be embellished with coral and sea shells.
Island Style is available to assist you in designing the perfect lighting for your dream home. Contact us today to discuss the spectacular options available to you.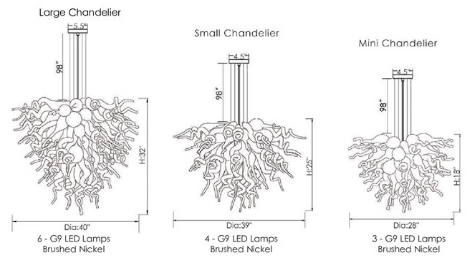 Additional pieces can be added to any of these chandeliers to increase the design and create many unique design effects. Please contact us for ideas and details.
Available in these colors: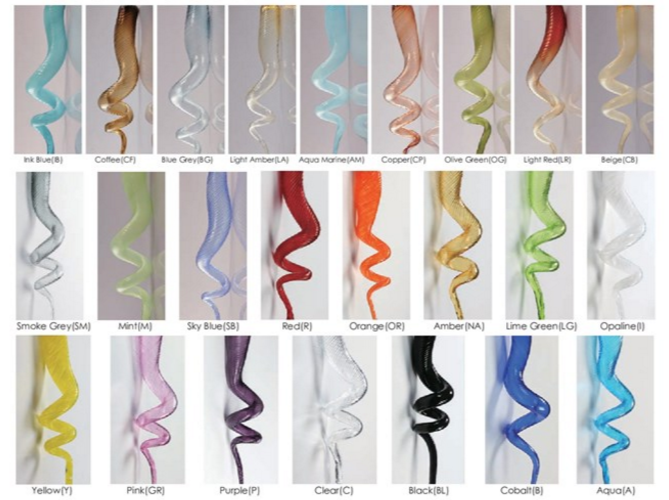 Please E-mail or call us today at 305-292-7800 for more information.
Lamps and Lighting
When decorating any space accessories play an important role.  Island Style offers several creative lighting options that will accent any décor.  Our hand blown art glass jellyfish lamps are breathtakingly beautiful.  Our hand painted table and floor lamps with their coordinated shades crafted by Sticks are each a work of art unto themselves.  We are showing on this page just some samples of what we can offer.  Contact us today to discuss how we can add excitement to any room in your home.