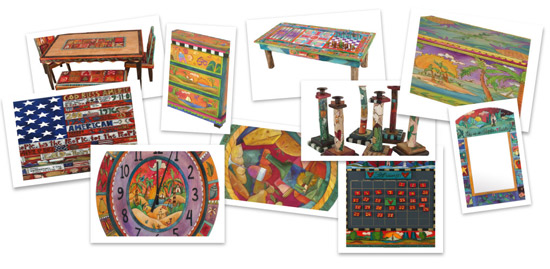 Sticks has received national acclaim for its distinctive American made furniture, accessories and art objects. Vibrant colors, hand drawn imagery, detailed carving and inspirational etchings are hallmarks of the celebrated Sticks style.
Each one-of-a-kind piece is finely crafted from birch, poplar and driftwood by their team of exceptionally talented artisans. These high quality works of functional art can be further embellished with hand painted leather to feature an unlimited array of unique design themes.
Island Style and Sticks have enjoyed a long relationship that goes back to their founding.  Together we have created for our many customers beautiful works of art that merge the exciting Island Style spirit with the bold Sticks design vision.
We continually have on display in our Key West and Sanibel Island galleries a varying collection of Sticks pieces designed exclusively for Island Style.
For those seeking something a bit more special, Island Style has extensive experience in working with Sticks designers and artisans to create commissioned works specifically designed according to the tastes and desires of each customer. These commissions have included dramatic architectural installations such as staircases and custom cabinetry.
On our website and Facebook pages you will find a small sampling of the Sticks work Island Style has offered over the years.  Many other options are available. Please contact us directly for information on the Sticks pieces we currently have on display or to discuss having a beautiful Stick's artwork commissioned especially for you.
Please E-mail or call us today at 305-292-7800 for more information.