Hand Made Address Tiles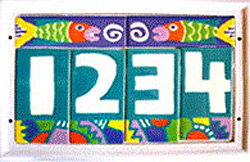 For decades these hand made address tiles have adorned homes all over Key West.
Called an "Essential" by Key West Magazine, these 6 by 3 inch ceramic tiles come in a rainbow of colors and styles.
Feeling tropical?  The vibrant Caribbean tropical and Caribbean plain collections are an island favorite.
Feeling bold? Pandemonium, the black and primary color mix, adds an exciting accent to any home.
Is subtle elegance more your taste? The jewel collection with its rich pallet or solid black tiles offers a luscious way to express your personal style.
Please consult the home order instructions and soon your beautiful house numbers will be on their way to you.
Whatever collection you select these hand crafted tiles are made to last a long time.
For those who visit our galleries we have the various tiles available for you to work with until you find a look that is best for you.  We can also assist those who wish to make their selections from home.
Please E-mail or call us today at 305-292-7800 for more information.